If your analog stick is drifting in one direction than maybe one of these fixes may help you.
Method 1
Go to Settings/System Settings, and then with the System Information screen displayed, rotate the analog stick in a circular motion. This will adjust the analog stick's range of movement.
Method 2
Using your finger's lift pull the analog stick up as far as you can, be careful not to pull it out or break it. Once you've lifted it up a bit push it to one side and place your mouth close to it and blow. You'll want to blow hard three times and then push the analog stick back into place.


Another option is to use your vaccum. Follow these instruction:


Get your vacuum cleaner ready and remove everything except the rubber tube.

Remove the circular thingy off your Analog stick

Turn on your vacuum and clean the analog up.
Method 3
This involves opening up your PSP and also requires you to buy a new Analog Stick assembly. I decided to include this option as it is the best way to fix the problem if you know how to do it. Here are the steps you'll have to follow:



There are 5 screws holding the faceplate to the PSP console. Remove all 6 of these screws. You will need a #0 Precision Philips.


There are two tiny screws holding the Analog Stick Assembly to the PSP faceplate. Remove these 2 screws and the assembly lifts right off. Pop in the new assembly, replace all the screws and you're set!


Replace the faceplate back onto the PSP. That's it! Not much to it!

Hopefully this is easy enough for you to follow and you were able to successfully fix your drifting analog stick. If you have any comments or questions please post them here or you can send me an PM.
_________________
PSN: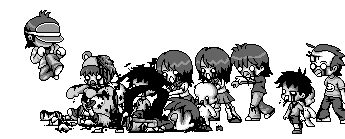 "Where other other men blindly follow the truth remember, nothing is true.
When other men are limited by morality and law remember, everything is permitted" -Ezio Auditore da Firenze, Assassin's Creed Brotherhood-
Webmaster





Posts

: 94


Points

: 195


Reputation

: 1


Join date

: 2011-03-31


Age

: 27


Location

: Grove City, OH



---
Permissions in this forum:
You
cannot
reply to topics in this forum